PLASTIC BUMPERS REPAIR
For your bruised bumper and plastic repair, refinishing materials are widely available and easy to use. Plastic bumper repairs involve sanding, sculpting, plastic welding and painting, but it is worth the effort for repair. When damage occurs, plastic bumper repairs are inexpensively performed by a trained technician. Car bumpers are designed to absorb the bumps and bruises of daily driving, but a bumper repair can easily restore the car's appearance and value within a short period.
Work completed at professional standard- All work is guaranteed to be completed at professional standard which will cater to the customers' full satisfaction.

Friendly polite service- Our repairers are the most compassionate and polite group for whom the customers are the first priority. We understand your feelings and needs.

Proper Pricing- As our basic goal is to satisfy the customers, we always keep in mind the prices incurred in our service. We offer the most honest and cheapest price for our car body shop required to execute a high quality service. We quote a fixed price with no hidden extras.
Approved Autocentre Committed to exellence achieving the
British Standard BS10125:2014
QA quality assurance accreditation.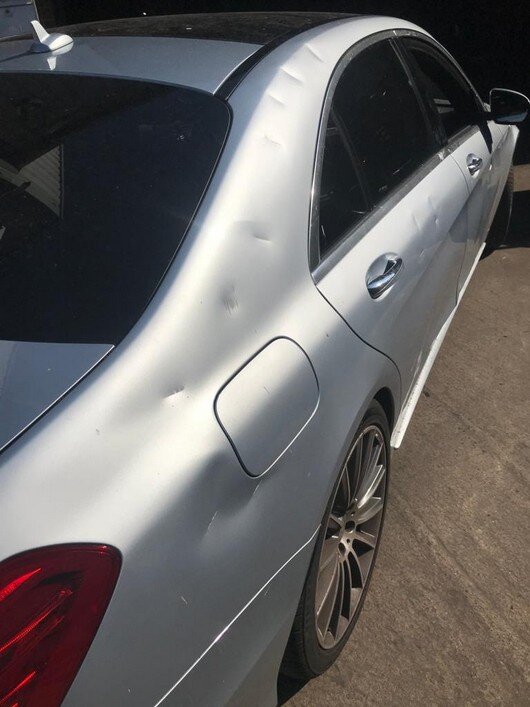 DENT REPAIR
We, the beautiful Body
Repairs
are a professional
car dent repair
company offering high quality all-in-one
dent repair
and mechanical services to customers across Northfleet,
Gravesend
and the surrounding areas in Kent. We provide all kinds of car
dent repai
rs in the targeted area without any consideration to big or small. Our excellent reputation earned over the years is the outcome of absolute customer satisfaction. We treat all our customers with equal respect and work towards the same professional standards.
WE SPECIALISE IN ALL THE FOLLOWING
Bumper repair, bumper scuff repair, car body repairs, car paint repair, car scratch repair, dent removal, paintless dent removal, scratch repair and much more.
CAR BODY STRUCTURAL WORK
Car Body Repair or Panel Beating is the entire vehicle repair process that involves straightening chassis rails and frames, removing and re-welding panels, fixing dents and other repair based work that is completed prior to paint refinishing. Our team at Approved Auto Centre are responsible for ensuring that your vehicle's shape, fit, function and specifications match its original conditions.